Leather Waterproofing Spray 8oz.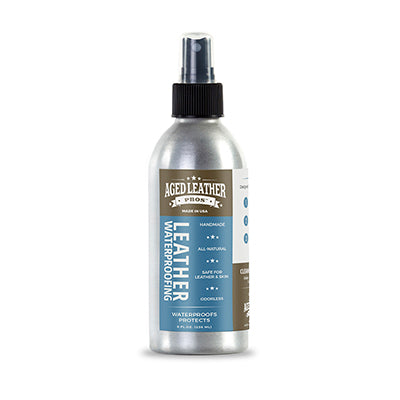 Leather Waterproofing Spray 8oz.
The premier leather waterproofing spray formulated to protect against the toughest stains and other contaminants while allowing your fine leather goods to breath and live a long life! 
Add an invisible layer of protection to your leather gear defending against dirt, water, and stains from oils, winter salt, soda, wine and so much more.
Other waterproofers contain silicone which suffocates your leather and shortens its life. Aged Leather Pros Waterproofer is ALL-NATURALl allowing your fine leather goods to breath and look their best!
Add years of life by waterproofing ALL your suede, nubuck, felt, fabric, or genuine leather gear. Including your hats, coats, footwear, tack, jackets, gloves, furniture, luggage, car upholstery, boat seats, saddles, and more!

Safe for your skin and made with all-natural and plant-based ingredients. Safe and non-toxic with no dyes, perfumes, petroleum, or adulterants.

Handmade in the USA. Odorless. Colorless. Water-based. Biodegradable. Non-aerosol.
Used by leathersmiths and leathercrafters for generations, Aged Leather Pros line of products are all-natural using only plant-based ingredients designed to protect without using harsh chemicals.
DUE TO HIGH DEMAND AND THE FACT THAT THIS PRODUCT IS HANDMADE IN SMALL BATCHES, THE AVAILABLE QUANTITY IS VERY LIMITED. PLEASE ADD TO CART NOW TO SECURE YOUR ORDER.
Aged Leather Pros products are used by professional leathersmiths and leather crafters, and is handmade in small batches to maintain unparalleled quality control. Our products are 100% natural and use locally sourced ingredients in the USA. They come in classic containers with a pump or a spray for easy application.
✓ Deeply cleans and restores even the most neglected leather 
✓ Heals existing scuffs and scratches 
✓ Leaves no chemical odor 
✓ Contains absolutely no harmful silicones, petroleums, solvents 
✓ Pet-friendly (non-toxic) 
✓ Works great on any leather 
✓ 100% Money Back Guarantee
DUE TO COVID-19, SHIPPING MAY BE DELAYED!
Shipping Information:
FREE Standard Shipping for all US Orders!
Leather Care Products Only:
Most US based orders are shipped directly from our warehouse within 24-48 hrs for your convenience and maximum efficiency. Your product should arrive within 7-10 Business Days. You have the option to choose Expedited Shipping (5-7 Business Days) at checkout.
All Other Products:
Most orders are shipped within 24-72 hrs for your convenience and maximum efficiency. Your product should arrive within 7-10 Business Days. You have the option to choose 2 Day or Overnight which will incur additional costs at checkout.
Returns Information: We offer a 100% Satisfaction Guarantee or your money back. Please contact us for return requests.
Return Policy Does Not Apply To Products Purchased with a Discount Code. All Returns subject to a 15% restock fee at our discretion.
We Are Leading The Industry In All-Natural Leather Care Products.
Aged Leather Pros is the world's leading supplier of high quality, all-natural leather care products. We have many great reasons to purchase from us from our quality customer service to the fine products we carry on our website. We are the fastest growing company in the industry because we always put the needs of our customers first. We have created a user-friendly, customer-centered online shopping experience that has us head and shoulders above the competition. We are positive you will see the difference in your experience from our high quality products to our exceptional online customer service. Take time and shop with us today.
A Few Of The Reasons You Should Buy From Us:
• 100% Secure Online Ordering
• Lowest Pricing Online
• New Products with Centuries-Old Technology that Works
• Knowledgeable and Professional Customer Support
• Thousands of Satisfied Customers
• 100% Satisfaction Money Back Guarantee
• All items In Stock and Ready To Ship upon Ordering
• Everyone Who Uses Our Products Comes Back For More And You Will Too!
LET OUR CUSTOMERS SPEAK FOR US
Back to the top
$21.95
Leather Cleaning Spray 8oz.
$8.95
Microfiber Leather Cleaning Cloth
$21.95
Leather Cleaning Spray 8oz.
$8.95
Microfiber Leather Cleaning Cloth